Though you may naturally associate the keyboard with the mundane, it's an essential piece of the puzzle if you're gaming on PC. Selecting the right keyboard is a do or die situation – meaning if you don't do it, you'll likely be the victim of a headshot in any online competitive shooter.
That being said, here we've compiled the 10 best gaming keyboards available for all the different flavors of PC gamers. Whether you're into World of Warcraft or Counterstrike, Overwatch or Dota 2, there's bound to be something in store for you.
In composing this list, however, we're keen to recognize everyone from gamers on a budget to persistent travelers to the stay-at-home eSports professional. With all types in mind, here is our extensive yet definitive guide to the best gaming keyboards money can buy.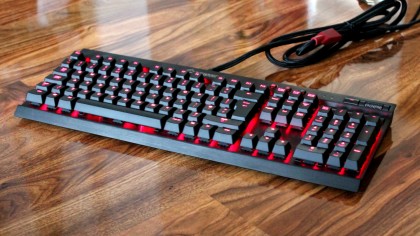 Corsair's K70 RGB Rapidfire keyboard is all about speed. Featuring Cherry's new linear MX Speed Switch, its keys are highly responsive and take only a slight movement of the finger to press them down. The switch actuates at just 1.2mm, with a light actuation force of 45g. The super-sensitive Cherry MX Reds, which are a sensitive keyswitch anyway, are not very suitable for long typing sessions. However, if you're into first-person shooters or any game that requires fast reflexes, the K65 RGB is equipped for the job. The full-length K70 RGB Rapidfire is also available in a tenkeyless version called the K65 RGB, which is easier to transport and slip into a bag to take to LAN parties. Like its larger sibling, the K70 has beautiful customizable RGB lighting.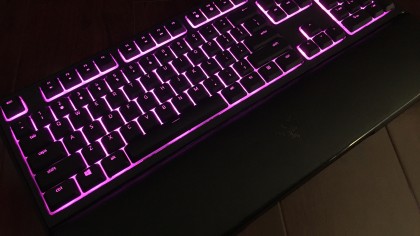 For too long there's been a divide between mechanical and membrane keys but now Razer has finally brought the two together with its 'Mecha-Membrane' Ornata keyboard. These new switches pull from everything Razer has learned over the years. The result is a grand typing experience with shorter keys, the tactile feel of the green switches from the Blackwidow X Chroma and a loud audible click. Just like its other products, the Ornata features a fully customizable, per-key backlight and it comes with a plush pleather wrist rest too.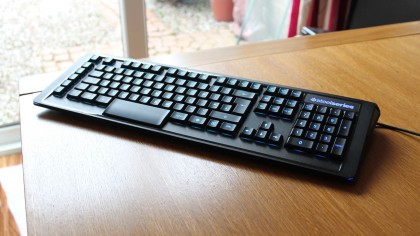 Billed as the fastest keyboard in the west (and the rest of the world for that matter), the Apex M800 feels different to type on than just about every other keyboard out there. That's because of its incredibly responsive QS1 keyswitch featuring 1.5mm key travel and 45cN actuation force. Its low travel and linearity lend it a similar feel to Cherry MX Reds, but with less effort to strike each key. This makes the Apex M800 a great keyboard for gaming, but its membrane-like keyswitch means you'll need to take some time adjusting to it when it comes to typing – especially if you've come from a tactile keyboard with Cherry's MX switches inside. The M800's individually-lit keycaps are easy on the eye and the M800's six left-positioned macro keys help you fire off spells and switch weapons in a snap.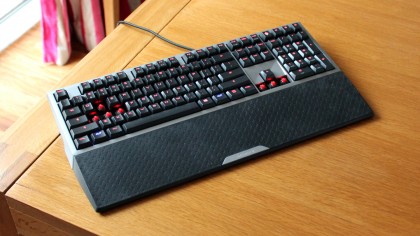 Cherry's flagship MX Board 6.0 features a lower profile than other gaming keyboards like the Razer BlackWidow X Chroma, making it perfect if you prefer to type and game using a wrist rest. Cherry's MX Red switches under the keys lend the MX Board 6.0 fast response times, but because the keys are positioned fairly close together they're excellent for typing too. Housed in an eye-catching aluminum chassis, the MX Board 6.0 certainly doesn't feel cheap and its blood-red key lighting is deliciously ominous. It's a mechanical keyboard that's also suited for the office.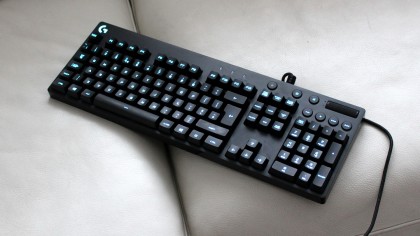 Logitech has followed up its Orion Spark G910 mechanical keyboard with the G810, which arrives with a refreshingly grown-up feel. Sporting Logitech's own Romer G switches, which aren't quite as squishy as Cherry's various switches, the G810 possesses a snappier feel than other gaming keyboards whether typing or gaming. Featuring smart media keys that work equally well on both Windows and OS X, Logitech's latest keyboard is a solid all-round offering. If you're fed up of the weird markings, LCD screens and strange parts that come with competing "gamer-focused" keyboards, the G810 might be for you.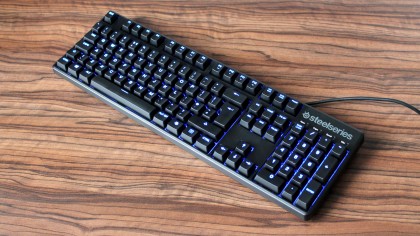 Many mechanical keyboards are gaudy and unwieldy, aimed at gamers on the, err, ostentatious side. That's not the case with the SteelSeries Apex M500. Like the Logitech G810, the Apex M500 eschews unnecessary bells and whistles in favor of clean design and bare essentials. While it's lacking media keys, macros and other such extras, it benefits from a compact design that wastes no space. Tailored towards e-Sports, its minimal leanings are refreshing and it looks great sat on a desk, accompanied by the right monitor and mouse of course.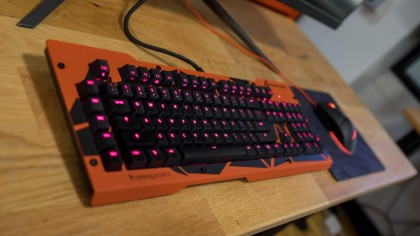 Better known for producing some impressive professional keyboards, the X40 comes as part of Das Keyboard's new Division Zero gaming lineup. Available with clicky (or optionally silent) tactile keys, Das utilizes its own custom made Alpha-Zulu switches that have a very similar feel to Cherry MX Red keys. What's more, the X40 comes with interchangeable thick aluminum panels making this one of the strongest and most rigid keyboards around.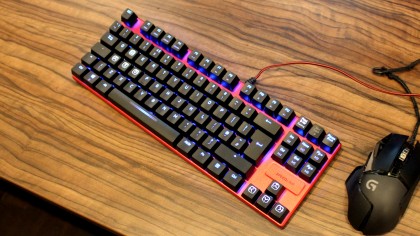 Adding a tenkeyless (TKL) keyboard to your gaming arsenal can give you more precious mouse space on a desk. Speedlink's Ultor is a compact TKL mechanical keyboard that uses Kailh's Red Switches, rather than Cherry's more popular MX variety. Its keys possess a smooth action ideal for executing quick, sharp double taps in games. The contrast between Ultor's blue-lit LEDs and metallic red chassis won't appeal to everyone, but if you seek a TKL mech that packs in gaming features and is cheaper than, say, Corsair's K65, then the Ultor is an appealing alternative.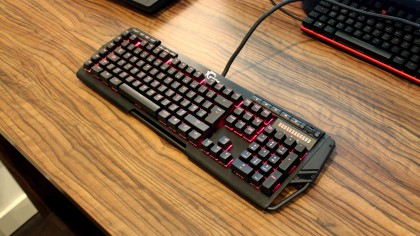 G. Skill may be known for its memory modules more than its peripherals, but thanks to the Ripjaw KM780 RGB, we hope it continues on with both. It may not have the most fabulous title, but the KM780 RGB boasts a full set of Cherry MX keyswitches, dedicated macros and a foldable mouse cable holder, making for a luxury piece of tech. More importantly, G. Skill's keyboard is comfortable to type on too, a quality owed to its sufficiently sized wrist rest. The LED volume indicator on the top-right hand side of the case only adds to the convenience factor while a military-grade aluminum plate protects the KM780 RGB from even the most high-up drops.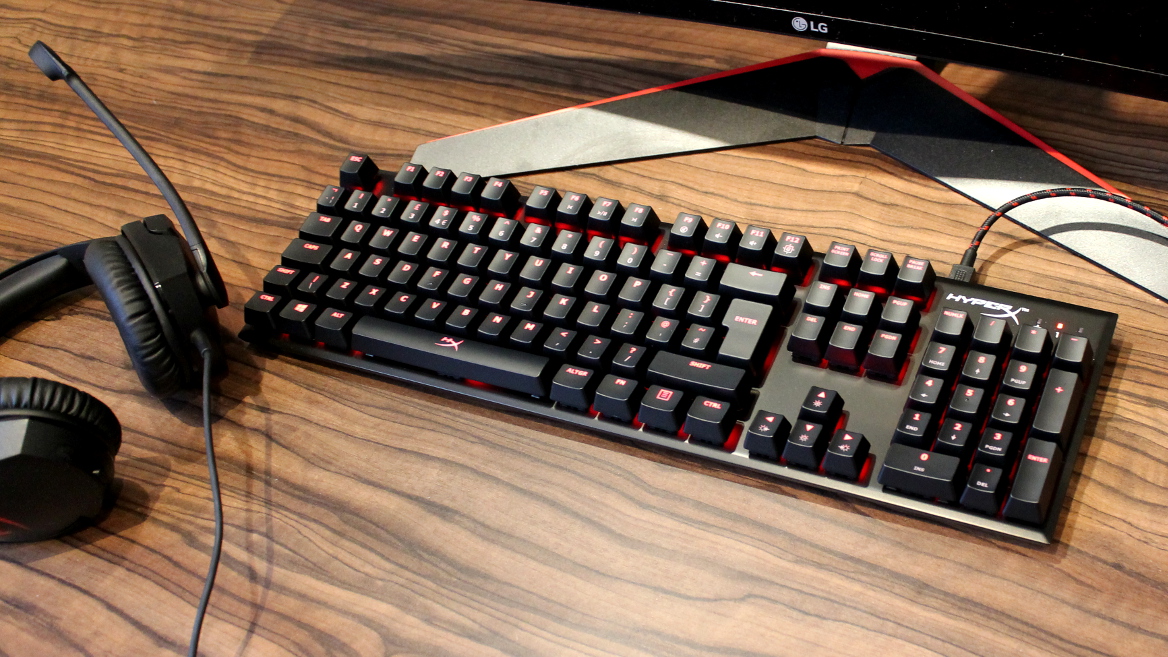 Any gaming keyboard that gives us more room on our desks is one that we'll take to. Kingston, which is better known for its memory modules rather than keyboards, has created a pleasingly compact board in the Alloy FPS. It's a full-sized keyboard that features a space-saving layout, making it not that much wider than a standard TKL keyboard – and you get the benefit of having a dedicated numberpad. It even comes with a snazzy carry case, which makes it doubly suitable for slinging into a backpack for taking to LAN tournaments. Its other features impress – from its blood-red LED per-key backlighting (full RGB would have been nice), to its front-mounted USB port that supports pass-through for charging mobile devices, to its detchable 1.8m braided cable. The Alloy comes with a number of Cherry MX switch options, including Blues that have an actuation distance of 2.2mm and sound pleasingly clicky to our ears.
Source link